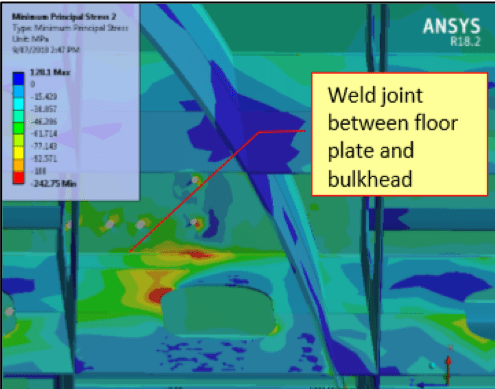 Contract
FIELD Engineers was approached by the Saraji Mine to perform an assessment to determine whether DRE13 would require any structural upgrades to the floor plate or vertical bulkheads to increase the fatigue design life in problematic areas. These areas had reports of fatigue cracking below the hoist and drag systems particularly along welds between the floor plate and vertical bulkheads.
Considerations
Non-destructive testing was necessary.
Measurements needed to be recorded from key areas within operating dragline.
Data collected was to be analysed and used to estimate the fatigue design life and provide recommendations to increase the fatigue design life around cracking areas.
Challenges & Approaches
The assessment procedure was to be non-invasive and non-destructive. Dragline geometry and operational load history were used to define loads applied at the areas of interest. A detailed, finite element model was used to represent floorplate and bulkhead geometry subjected to fatigue loads. Results from the subsequent finite element analysis formed the basis of fatigue deign life estimates.
SUCCESS:
Three hours of strain gauge data was recorded from 5 different points around the problematic areas within the dragline and compared to generated FEA results.
The engineers at FIELD were able to make several other conclusions relating to the condition of the welds, floor plate and vertical bulkheads based off the strain gauge data.
FIELD made recommendations install structural upgrades to increase the fatigue design life of the area of interest.
The strain gauge analysis conducted allowed the client to prioritise the structural upgrades in the problematic areas.
Recent case studies
Our diverse portfolio is a reflection of the expertise and skills FIELD Engineers possess and a testament to the commitment of our team.
From concept to reality… we get it right the first time
When everyone else is scratching their heads or telling you it can't be done give us a call.