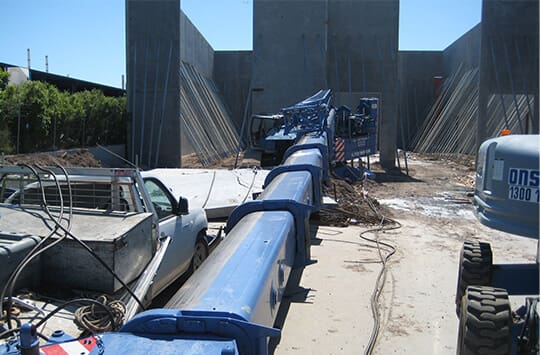 Contract
FIELD Engineers was engaged to investigate the cause of the sideways boom collapse on the crawler crane, which had been lifting and moving large pre-cast concrete wall panels at the time of failure.
Client needs and considerations
The FIELD Engineers team inspected the failed crane within 24 hours of the incident and in-situ, which provided exceptional detail of the conditions in which the failure occurred and an efficient collection of data for review and analysis.
FIELD considered both the possibility of a structural failure and operational failure in initiating the collapse.
Approach
FIELD Engineers' access onsite within 24 hours of the incident enabled rapid understanding of the site-related challenges – traversing rough and uneven ground became the focal point for analysis.
Site characteristics and measurements where the incident occurred assisted in determining if the crane was operating outside its general capability or if there was a fault with the crane. Inspection of the crane's failure location identified if mechanical failure was predictable.
Cost savings
FIELD Engineers' quick deployment of forensic engineers to the site allowed the investigation to be conducted with minimal downtime. Specialist engineers being involved at the outset provided a timely and cost-effective resolution.
FIELD determined that the crane was operating on too great a slope and exceeded its capacity in that position.
The condition of the crane was ruled out as a potential cause of the dropped load, as was the general overloading of the system.
FIELD Engineers further advised the client on the viability of recovery options for the crane.
Recent case studies
Our diverse portfolio is a reflection of the expertise and skills FIELD Engineers possess and a testament to the commitment of our team.
From concept to reality … we get it right the first time
When everyone else is scratching their heads or telling you it can't be done, give us a call.