Contract
FIELD Engineers was approached by the client for the replacement upgrade of the Dragline-25 mast head as part of the upgrade to be completed during a shutdown. The new mast design was to interface with existing components, while improving fatigue design life.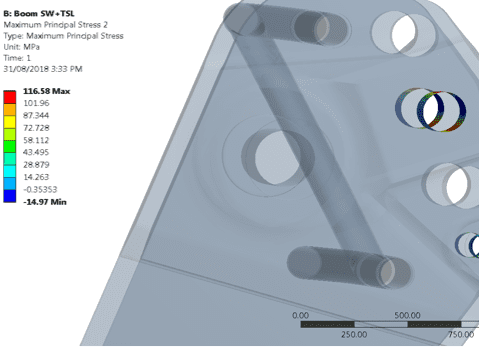 Challenges & Approaches
3D laser scan performed by FIELD Engineers provided critical dimensions and geometry needed for the interface. Dragline geometry and operational load history were used to define a structural model and loads for a finite element analysis (FEA). Results from the FEA formed the basis of fatigue design life estimates.
SUCCESS:
The design of the mast head from a single, 180mm thick plate eliminated known fatigue cracking issues around welds while also significantly speeding up the manufacturing of the mast heads.
The modelling and analysis developed during this project can be used for other upgrades and maintenance planning that is required in the future.
The final design was machined to have a much longer design life than the previous mast head as stress concentration and fatigue cracking is far less likely to occur.
The mast head was delivered to the client on-time to be installed to Dragline-25.
Recent case studies
Our diverse portfolio is a reflection of the expertise and skills FIELD Engineers possess and a testament to the commitment of our team.
From concept to reality… we get it right the first time
When everyone else is scratching their heads or telling you it can't be done give us a call.