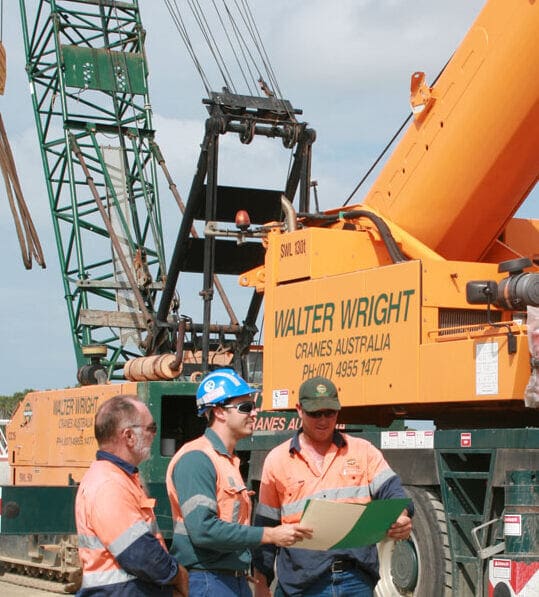 Crane Inspections & Repair Services Australia-Wide
At FIELD, we have experts in cranes, lifting systems, and high-risk plants who are endorsed by CraneSafe and the Crane Industry Council of Australia. Our clients trust us with their crane inspection and certification, high-risk plant inspection and assessment.
Field Engineers specialise in a comprehensive range of services for overhead systems and related equipment. Our services include:
Overhead Crane Inspection:

Thorough examinations and assessments of overhead systems to ensure safety and compliance.

OHTC Examinations:

In-depth inspections and evaluations of Overhead Travelling Crane (OHTC) systems for optimal performance.

Crane Repairs:

Expert repair services for various overhead lifting and handling systems, addressing issues to ensure seamless operation.

Hoist Inspections:

Detailed inspections and maintenance checks for hoisting equipment to guarantee safe and efficient functioning.

Hoist Repairs:

Skilled repairs and servicing for hoisting mechanisms, enhancing their longevity and performance.
Our team is equipped with the knowledge and experience to cater to all your overhead crane and handling system needs, prioritising safety, compliance, and operational excellence. Our crane inspectors undertake these inspections to guarantee the compliance of equipment and with minimal disruption to our clients' schedules.
With our extensive experience in legislation compliance and plant inspection, FIELD is also uniquely placed to inspect, assess and design for theme parks and amusement rides.
Crane Lift Planning and Certification Services
With years of experience, no lift is too big or too complex for our team of engineers. A fully insured, independent and detailed lift plan provided by FIELD ensures more value extracted from the cranes employed for the job.
Field Engineers is your trusted partner for Lift Planning and Crane Certification services, designed to ensure cranes' safe and efficient operation across various industries. Our experienced professionals combine technical expertise with cutting-edge technology to deliver tailored solutions for your lifting needs.
Our experts create customised lift plans that account for the unique requirements of your project. These plans encompass critical factors such as load weight, crane selection, rigging methods, environmental conditions, and safety protocols. Safety is our top priority, and we conduct thorough risk assessments to identify potential hazards and implement effective mitigation measures. Our goal is to optimise efficiency while minimising downtime, and we achieve this by meticulously analysing project timelines and logistics.
Crane Certification
We also provides comprehensive crane certification services across Australia, assuring that your cranes comply with all necessary regulations and safety standards. Our certifications serve as a testament to the reliability and safety of your systems.
Crane Inspection Services
We offer crane inspection services to assess the performance and safety of your crane systems. Our experts scrutinise designs to ensure they meet industry standards and optimise functionality.
Why Choose FIELD Engineers for Your Crane & Rigging Requirements?
When it comes to Crane & Rigging Engineering Services, FIELD stands out for several compelling reasons:
Certified and Experienced Inspectors: Our inspection team comprises qualified crane engineers and proficient technicians. This ensures that your inspections are carried out with the highest expertise and adherence to industry standards.
Competitive Pricing: We understand the importance of cost-effectiveness. We take pride in offering competitive pricing without compromising the quality of our services. You can have top-tier inspections without breaking the bank.
Australia-wide Coverage: Whether your projects are in remote locations or urban centres, we have the capability to work remotely and deploy our crane technicians Australia-wide. This extensive coverage ensures that our expertise is readily available wherever you need it.
Comprehensive Service Range: FIELD Engineers provides various inspection, repair, and certification services tailored to multiple mobile crane types and inspection requirements.
Commitment to Safety: Safety is our paramount concern. We prioritise the well-being of crane operators and ensure that your equipment is thoroughly inspected and complies with industry standards. 
Choose us for your crane & rigging requirements and experience the difference that expertise, affordability, and dedication to safety can make in your crane operations.
Registered CraneSafe Inspectors – Inspection & Compliance Engineers
Since 2006 the Queensland Code of Practice for Mobile Cranes was introduced, FIELD Engineers has been leading the way in Major Crane Inspection. We have successfully certified the overhaul of hundreds of cranes across various types, tackling a wide array of challenges along the way. Our Principal Engineer, David Hartigan, is recognised by the Crane Industry Council of Australia and CraneSafe as one of the top engineers, endorsing his expertise across all types.
Our team of inspectors is endorsed by CraneSafe and committed to continuous learning and development to stay abreast of the latest industry trends and standards. They operate within the FIELD Engineers' ISO9001 Endorsed Quality Assurance System framework, ensuring that our services consistently meet the highest quality standards. With FIELD, you can trust that your crane inspections are in the hands of professionals dedicated to excellence and safety.
CraneSafe Inspections for Safety and Compliance We Provide
Field Engineers are proud to be endorsed for crane inspection and safety requirements. We provide comprehensive CraneSafe inspections and compliance services for various crane types, including:
Rough Terrain Crane

Lattice Boom Truck Crane

Lattice Boom Crawler Crane

Hydraulic Truck Crane

Articulated Mobile Crane

All Terrain Cranes

Vehicle Loading Crane

Self-Erecting Tower Crane

Hammerhead Tower Crane

Luffing Jib Tower Crane

Diesel Luffing Jib Tower Crane

Overhead Traveling Bridge Crane

Telescopic Handler – Rigid Frame

Telescopic Handler – Rotating Frame

Truck-Mounted Concrete Pump
Our commitment to safety and compliance ensures that you meet all the necessary standards and regulations, promoting safe and efficient operation in various industries.
How we help you with Crane & Rigging Engineering Inspection & Certifications
Major & Annual Crane Inspection Services Australia-wide
When it comes to Major crane inspection and certification, FIELD Engineers stands as the top-tier choice. Our dedicated inspectors are highly knowledgeable and bring complete independence and full insurance coverage to the table.
Partnering with our certified and experienced inspectors ensures you receive exceptional services at competitive prices, with a commitment to safety and quality that's second to none.
Our team of inspectors specialises in a comprehensive range of services, including:
Major Crane Inspection Services
Our experts are equipped to perform in-depth inspections of major cranes, ensuring they meet stringent safety and operational standards. These assessments cover critical aspects of crane functionality and safety.
Major Crane Certification Services
FIELD Engineers is the go-to choice for major crane certification services throughout Australia. Our crane certification process is designed to give you complete peace of mind. We meticulously verify that your crane has undergone the necessary inspections and meets all safety and operational requirements. Our experienced team of assessors leaves no stone unturned to ensure your crane is in top-notch condition. At FIELD, we hold quality and safety in the highest regard—our commitment to excellence guarantees that you meets industry standards and complies with all relevant regulations.
Quarterly / Annual Crane Inspections Services
Annual inspections are not just a formality but a vital aspect of crane safety and compliance. In strict adherence to OEM requirements and Australian Standards, FIELD Engineers offers comprehensive annual inspections for all makes and models of cranes and classified plants at your site.
These mandatory annual inspections serve several crucial purposes. First and foremost, they ensure strict regulatory compliance, helping you avoid potential legal and safety issues. Moreover, these inspections act as preventive measures, identifying and rectifying possible breakdowns and component failures before they escalate into costly machine breakdowns or non-compliance problems that could lead to project delays.
At FIELD Engineers, we understand the importance of these annual checks, and we take them seriously. Our expert team of inspectors is well-versed in conducting thorough examinations, and we leave no stone unturned to ensure the safety and reliability of your cranes and classified plants.
Tower Crane Safety Repair & Inspections
Tower Crane Inspection is a critical service offered by FIELD Engineers. Our highly skilled and CraneSafe-endorsed inspectors are well-versed in the intricacies of tower cranes. They conduct thorough inspections to ensure these complex machines meet all safety and operational standards.
Our inspections cover all aspects of operation, from structural integrity to mechanical and electrical systems. We assess the crane's condition, identify potential issues, and provide comprehensive reports detailing our findings and recommendations.
Our Capabilities
Pre-Erection Inspection and Certification

Base, Assembly, Post-Repair, and Post-Incident Inspection and Certification

Quarterly and Annual Inspection

Pre-Climb, Climb Assembly, and Post-Climb

Nondestructive Testing (NDT)

Binder Review

Wire rope Inspections

Scheduled Preventive Maintenance
Mobile Crane Inspection Services
At FIELD Engineers, our skilled team provides comprehensive inspection services for a wide array of mobile cranes, including crawlers, articulating boom cranes, boom trucks, man baskets, derricks, and hydraulic boom. Our inspectors, certified by federal OSHA, possess the expertise to dual certify your mobile, port, or container cranes for maritime and construction applications, as required.
We uphold integrity by ensuring unbiased inspections. Should any repairs be necessary following an inspection, we will guide you to a trusted crane repair partner within our network. Our commitment is to ensure your operations are safe, efficient, and compliant, providing you with peace of mind and confidence.
Our Capabilities
Annual inspection and certification  

Repair recommendation and re-certification
Overhead Crane Inspection Maintenance and Repair Services We Provide
FIELD offers a comprehensive range of overhead crane inspection and repair services, including:
Crane and Hoist Inspections:

Thorough examinations to ensure safe and compliant operation.

Preventive Maintenance:

Scheduled maintenance to prevent potential issues and ensure optimal crane performance.

Lubrication and Adjustments:

Routine lubrication and necessary adjustments to enhance crane efficiency.

Retrofits:

Modernisation and retrofitting of crane components for improved functionality.

Part Replacement:

Replacement of worn or damaged crane parts to maintain reliability.

Electrical Repairs:

Expert electrical repairs to ensure the proper functioning of crane systems.

Wireless Remote Controls Installation:

Wireless remote control systems for convenient crane operation.

Dye Penetrant Inspections (on lower hook):

Non-destructive testing to detect surface defects in critical crane components.

Load Testing up to 5 Tons:

Rigorous load testing to verify the crane's capacity and safety.
Our services are designed to keep your overhead crane systems in top condition, minimising downtime and ensuring safety and compliance.
Types of Overhead Cranes We Inspect and Service Across Australia
Top Running Cranes

Under (Hung) Running Cranes

Single Girder Cranes

Double Girder Cranes

Overhead Travelling Bridge Cranes

Jib Cranes

Monorail Cranes

Gantry Cranes
Our expertise extends to all these crane types, ensuring their safety, reliability, and efficient performance in various industrial applications.
Our Capabilities
Annual inspection, repair and certification  

Repair recommendation and re-certification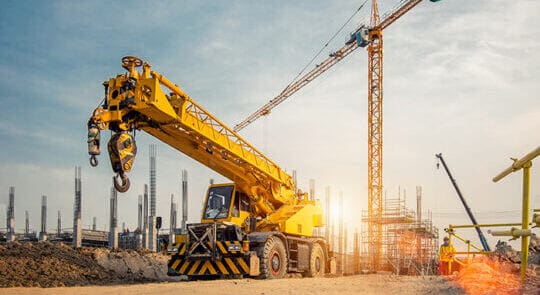 Get More Information on Crane & Rigging Engineering Services
If you're looking for more information on our comprehensive crane inspection, certification and repair services, Field Engineers is here to assist you. We have the expertise, equipment, and efficiency to handle all aspects of inspecting, testing, maintaining, and repairing your cranes.
Understanding the criticality of downtime in your operations, our dedicated team is committed to delivering timely and precise service. To initiate the process or gain deeper insights into our services, don't hesitate to contact us at 1300 854 782 or via email at enquiries@fieldengineers.com.au. Your inquiries are our priority, and we are here to assist you every step of the way.
Recent case studies
Our diverse portfolio is a reflection of the expertise and skills FIELD Engineers possess and a testament to the commitment of our team.