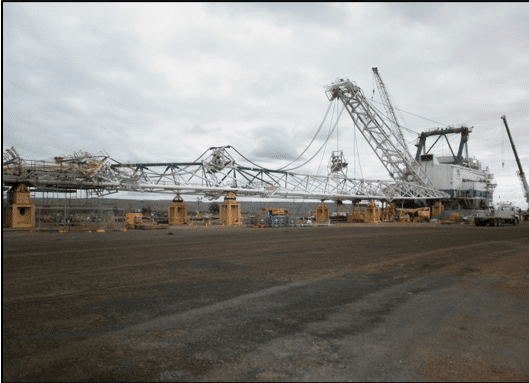 Contract
FIELD Engineers was contracted to oversee the entire replacement process of the 38 tonne CD plate during the Shutdown of Dragline DRE40. This process included the removal of the old plate and the design, analysis, fabrication, transportation and installation of the new CD. The fabrication was completed by DGH Engineering but the remaining processes were completed by the FIELD Logistics Coordinator, structural superintendent and mechanical team.
Considerations
Due to the nature of the machine and shutdown operation the main considerations were:
The replacement was to be completed within the time restrictions of the dragline shutdown.
The process was to be completed within the shutdowns OHS standards.
The design and fabrication cost was to be minimised where acceptable.
Challenges & Approaches
The final details of the CD included the input of the client, and the installation contractor to allow for an efficient installation and weld-out. The process undertook by the FIELD team allowed the individual design considerations to be accounted for in each step of the removal and reinstallation processes.
SUCCESS:
The new CD was installed in 36 days and at a considerable cost saving to alternative CD supply options.
Shutdown time was minimised as the replacement CD was brought to site fully assembled and ready for installation and weld-out.
Drafting and fabrication costs for the new CD were considerably cheaper than other alternatives. Along with the designs of the new CD, FIELD Engineers developed a detailed installation plan to be used in the reinstallation process.
A high-level project risk assessment was carried out with the client to confirm that all risks associated with the FIELD Engineers proposal could be controlled prior to project kick-off.
Recent case studies
Our diverse portfolio is a reflection of the expertise and skills FIELD Engineers possess and a testament to the commitment of our team.
From concept to reality… we get it right the first time
When everyone else is scratching their heads or telling you it can't be done give us a call.