3D laser scanning stands as a rapid and precise solution for acquiring essential survey measurement data and three-dimensional imagery, making it an indispensable asset in construction, design, and project management domains. 
Harnessing LiDAR (Light Detection and Ranging), 3D laser scanners meticulously capture and record precise spatial information and distances, culminating in the creation of a comprehensive point cloud file. This transformative technology empowers you to swiftly and effortlessly generate highly accurate digital measurements and images tailored for seamless integration into construction and engineering projects. 
Construction laser scanners represent a revolutionary tool for documenting existing conditions, boasting invaluable applications in design, prefabrication, asset management, and facility modifications. They pave the way for enhanced precision, efficiency, and success in every facet of your construction endeavours.
But we don't stop at data capture; we transform it into actionable deliverables, expediting your projects to new heights of efficiency and precision.
3D Laser Scanning Services Precisely Captures Project Data Australia – wide
The landscape of technology is constantly evolving, and 3D laser scanning stands at the forefront of this revolution. However, even with cutting-edge gadgets, the key to unlocking valuable insights lies in the expertise and knowledge needed to capture and interpret critical data.
At FIELD Engineers, our surveying team leverages state-of-the-art laser scanning technology to deliver precise as-built representations of structures to our valued clients. Our advanced laser scanners possess the capability to generate expansive, highly accurate point clouds of structures, providing the foundation for detailed modelling using our cutting-edge design software.
What sets us apart is our proficient surveyors, extensively trained to harness the power of 3D laser scanners effectively. They are readily available for contract-based engagements, ensuring the seamless execution of this intricate procedure whenever and wherever it's required.
How It Works
Capture: Our technicians visit your site with specialised scanners to capture precise measurements.
Process: We meticulously process the acquired data, transforming it into comprehensive point clouds or exceptionally accurate 2D drawings and 3D models.
Utilise: Leverage the resulting output to enhance your planning and execution, expediting the progress of your projects with greater efficiency and precision.
Laser Tracking Services
Laser tracker systems are ideal for precision measurement (±15 µm, or 0.015mm) up to a range of 160m.  This makes it ideal for surveys of any size of components in the field.  These systems allow high-accuracy point tracking for a great variety of applications throughout mining and heavy industry. 
At FIELD Engineers we pride ourselves on our ability to work with our equipment to obtain the best results for our clients in an efficient manner. Our laser tracking systems work by creating highly accurate point measurements of an object in 3D space acting as a more direct solution when compared to available 3D Laser Scanners. Our laser tracking services are managed by technicians who have been trained and are experienced with using our laser trackers to measure medium and large-sized objects on site.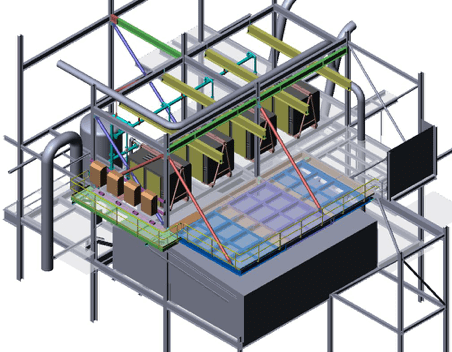 BIM Modeling Services
FIELD Engineers is a recognised leader providing BIM modelling services across diverse industries in Brisbane, Mackay, Gladstone & Bowen Basin. Our scan-to-BIM services offer a distinctive opportunity to capture, analyse, and define existing conditions, all through the safe and non-contact laser scanning process. We have consistently delivered substantial cost savings, saving our clients millions of dollars in lost productivity and materials by leveraging 3D BIM models for design, visualisation, space definition, prefabrication, and clash detection.
Laser scanning proves to be the perfect complement to Building Information Modelling (BIM) due to its exceptional efficiency, accuracy, and level of detail. It accurately documents as-built conditions and is indispensable in facility asset management and modifications.
FIELD Engineers has earned a nationwide reputation for excellence in BIM laser scanning services. We complete hundreds of projects annually, consistently meeting deadlines and budgets. Our experienced scan technicians employ industry-leading survey-grade equipment to collect millions of precise data points for buildings and sites. Our team of field engineers, architects, and CAD Designers/Technicians has honed the expertise required to seamlessly convert 3D laser scanner point clouds into BIM-ready 3D models, supporting any project's planning and LOD construction requirements. This precision in data collection empowers project planning without the burden of unexpected interferences and conflicts, ensuring the success of your endeavours.
Our Laser Scanning Services Australia-wide
Using the array of laser scanning and tracking survey equipment owned by FIELD Engineers, our surveying team is able to provide a wide variety of services across a number of locations like Gladstone, Mackay, Brisbane, Whitsundays and Bowen Basin.
We offer Point Cloud Laser Scanning and more:
3D Laser Scanning
LIDAR Scanning
Point Cloud Scanning and development
Theodolite Surveying
Laser Tracking
High Precision Optical Surveying
Point Cloud modelling
As-built structure modelling & drafting
High accuracy data collection
Onsite 3D Scanning
Utilisation of Internal Equipment and Technicians
Overlaying and Registration of Scan Data
Refinement of Point Cloud Data
Extraction and Preparation of Colourised 3D Point Cloud
Real-time Onsite Review of Point Cloud Data
As-Built Modelling of Point Cloud Data
Read More

When contracted to develop a model of an intricate structure such as a coal wash plant, the FIELD Engineers surveyors will often go to the site and perform a high accuracy 3D scan and will use the resulting Point Cloud to develop the 3D model and then as built engineering drawings.

This process started with the laser scanner, making the 3D Point Cloud then the model and drawings were perfected by the surveying team.
Our Surveying Projects
The FIELD Engineers mechanical and structural surveying team has applied their skills using our laser scanners, trackers and other surveying equipment in various places around Queensland and New South Wales including:
Peak Downs CHPP for BHP Mitsubishi Alliance

Newlands CHPP for Xstrata

Moorvale CHPP for Peabody Energy

South Walker – BHP Mitsui Coal
The laser scanning equipment has been used to scan many different structures and pieces of machinery including:
Mating flanges for large pressure vessels in chemical plants

Dragline 22 gearboxes at Saraji Mine

Dragline 40 rails and swing systems at Blackwater Mine

Dragline 1 boom, mast and gearboxes as Newlands Mine

Numerous coal wash plants throughout Queensland
Connect with FIELD Engineers Today to Discuss Your Specific Laser Scanning Requirements.
Why Choose our 3D Laser Scanning Services
At FIELD Engineers, we stand out as the premier choice for 3D laser scanning services due to our unwavering commitment to excellence in every service aspect. Here's why you should choose us:
Cutting-Edge Technology
We employ state-of-the-art equipment, software, and processes to ensure the highest quality data, maps, and models for your projects.
Precision and Accuracy
Our 3D scanning technology sets the standard for precision, capturing exact dimensions and measurements with astonishing accuracy, ranging from 2 to 4 millimetres.
Bridging the Gap
We excel in bridging the gap between unknown existing conditions and the creation of a genuine digital twin. This transformative process equips our clients with a powerful visualisation, analysis, and decision-making tool, ultimately enhancing project efficiency and success.
Expertise in Action
Unlike simply hiring a surveyor for point cloud scanning, we prioritise involving the individuals who will utilise the data in the scanning and surveying process. This approach fosters valuable insights from site observation and data analysis, resulting in the improved interpretation of laser scanning results and the delivery of higher-quality modelling outcomes.
When you choose FIELD Engineers for 3D laser scanning services, you're opting for excellence, precision, and a commitment to enhancing the value of your projects.
Frequently Asked Questions about Laser Scanning
What is 3D laser scanning?
Point clouds are familiar to many involved in 3D modelling across various industries. However, what may need to be more widely recognised is that these intricate point clouds are predominantly a product of 3D laser scanners. In building, construction, and engineering, 3D laser scanning is fundamental for capturing existing environments or substantial objects. This is primarily achieved by deploying Terrestrial Laser Scanners, sophisticated devices engineered for precision.
Here's an insight into the process: A skilled technician visits the site or location of the object or environment of interest. During this on-site endeavour, the technician conducts a series of scans, often multiple, to comprehensively capture the area or item from various angles and perspectives. The result is a meticulous data collection.
Once the scans are completed, the technician returns to the office with a wealth of captured data. Back at the desk, the painstaking task of data correlation begins, ultimately culminating in creating a point cloud file. This file is the digital embodiment of the captured environment or object and is an invaluable resource for various applications.
These applications span from facilitating CAD and 3D visualisation workflows to supporting the development of BIM (Building Information Modelling) CAD models, enabling detailed analysis, and playing a pivotal role in digital scene reconstruction. In essence, 3D laser scanning is the foundational process behind the creation of intricate point clouds, serving as a vital tool for diverse digital applications within the domains of building, construction, and engineering.
How does 3D Laser Scanning Work?
A 3D Laser Scanner operates by emitting a laser beam, which interacts with objects, bouncing back to the scanner's sensor. The scanner's onboard computer then performs calculations to pinpoint the exact location in space from which the return originated. For each return, it generates X, Y, and Z coordinates relative to the scanner's centre. Remarkably, some advanced scanners can accomplish this process at speeds of up to 1,000,000 times per second. The outcome of this rapid scanning procedure is the creation of a Point Cloud, a digital representation consisting of countless precise 3D coordinates in space.
What is Point Cloud Scanning?
Point cloud scanning is a sophisticated technology that involves the creation of a point cloud, a collection of data points precisely plotted in three-dimensional space. This process relies on the use of a specialised 3D laser scanner. When scanning an object or environment, such as a building, each virtual point within the point cloud corresponds to an actual point on the physical surfaces within that space. For instance, these points might represent the positions of walls, windows, stairways, metal structures, or any surface the laser beam encounters during the scanning process.
Point cloud scanning is a valuable tool, allowing for the highly accurate and comprehensive capture of real-world objects and environments. This rich dataset can be used for various applications, including architectural design, engineering analysis, construction planning, and more. It provides a detailed and digital representation of physical spaces, enabling professionals to work precisely and efficiently in various industries.
What is BIM (Building Information Modeling)?
Building Information Modelling (BIM) refers to a comprehensive and collaborative process used in the construction and architecture industries. BIM stands for "Building Information Modelling" and "Building Information Management." This approach involves creating and managing a detailed 3D model that encompasses a building or structure's entire lifecycle, from initial design and planning to construction, operation, and maintenance.
BIM fosters collaboration among various stakeholders in the construction process, including architects, engineers, real estate developers, contractors, manufacturers, and other professionals. It allows them to work together within a single digital 3D model, sharing real-time information, insights, and data. This shared model serves as a central repository of information, ensuring everyone involved can access accurate and up-to-date data throughout the project's lifecycle.
What are the Benefits of BIM Modeling Services?
BIM (Building Information Modelling) services are revolutionising the construction and architectural industries, offering a wide array of advantages that enhance project efficiency and outcomes. These benefits include:
Real-time access to building information

Accurate project planning

Improved communication across project teams

Model-based cost estimation

Visualisation of projects in preconstruction

Identification and mitigation of clashes

Improved scheduling and sequencing

Precise prefabrication of building components

Reduced errors and rework
Recent case studies
Our diverse portfolio is a reflection of the expertise and skills FIELD Engineers possess and a testament to the commitment of our team.