COVID-19 Information
LAST UPDATE: 0910 hrs, Monday 10 January 2022.
***Mask mandates are in force, and there are recent changes to isolation and testing requirements. Information and rules can change quickly, so regularly check the links below.
Summary
FIELD Engineers is open for business.
Mackay – Open during business hours. People are in the office according to health status and agreements with their manager. Everyone is following the mask wearing guidelines.
Brisbane – Staff are working in locations according to agreements with their manager depending on work requirements. Everyone is following the mask wearing guidelines.
Gladstone – Working from the office when not on site. Everyone is following the mask wearing guidelines.
Our sources
FIELD's decisions and advice are based on the latest information from Australian Government Department of Heath (see especially for isolation triggers and duration), Queensland Government, the Queensland Resources Council, and BHP notifications for site access.
Our response to trigger events
FIELD Engineers is using a TARP (trigger-action response plan) for how we will respond to certain trigger events – see below or [click here] to see a full-screen version.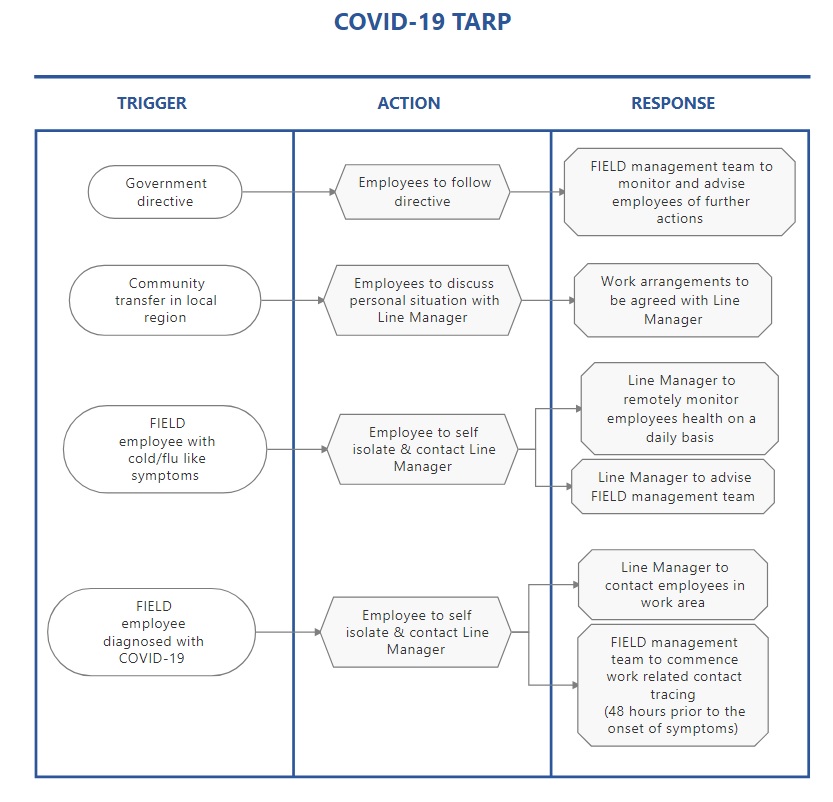 Our work status
As an essential service*, all FIELD offices are OPEN, but we have a number of measures in place:
Feeling sick? Anyone who is unwell must stay home, seek appropriate medical advice, and contact their supervisor.
IT systems. The IT system is working well. For those working from home, the biggest issue is the lack of social interaction.
Keeping distance. Everyone should practice good hygiene and physical distancing [click here]. To help, we are making hand sanitiser available, increasing our frequency of disinfecting surfaces in the Mackay, Gladstone and Brisbane offices, and changing seating and lunchroom practices.
Working from home.
Public transport and air travel.

We suggest that public transport users consider alternative modes of travel to the office.
Wearing a mask is compulsory inside all Queensland airports and on domestic flights.
Masks are highly encouraged in Greater Brisbane in shopping centres, on public transport, and anywhere else social distancing is difficult.

Site work changes.

Some FIELD employees who are working at client sites have been asked to work remotely. Other site-based work continues subject to that site remaining open.
FIELD staff who are working at a client site must complete a health assessment and comply with any site-specific health assessment procedures. If you are going to site, confirm the health assessment requirements with your site contact before travelling.
If the site asks you to complete a health assessment before arrival, use the [FIELD Engineers Health Assessment – CLICK HERE]
Contact the admin team if you are not able to check the BMA CMS.
*Why is FIELD an essential service business?
Our high-risk plant inspectors are verifying the safety of machinery used in other essential services.
Visitors
We are discouraging non-essential visitors to the FIELD offices, and face-to-face meetings in other locations. We encourage everyone to use phone and video calls. Any necessary visitors to FIELD offices are required to use hand sanitiser at the front door before entering the office. Sam and Dani are like bouncers: No hand squirt (2 pumps), no entry.
Travelling
FIELD is suspending all international travel, and is limiting domestic travel within Queensland to essential only. Essential interstate travel is subject to border restrictions. Please confirm the latest border restrictions before confirming travel. Be aware that Queensland border access and permit requirements can be changed at short notice. You can find updates on the [Queensland Border Restrictions site – Click here].
If in doubt, speak to your supervisor before confirming arrangements for interstate jobs.
Government-directed 14-day quarantine applies if returning from overseas or from a COVID-19 hotspot. You can check current declared hotspots at the [Covid-10 hotspots site – CLICK HERE].
Self-isolation and quarantine
FIELD staff and their families may be required to go into quarantine (for people at risk of infection) or self-isolation (after a positive COVID-19 test). We encourage all employees to read the RACGP article [click here] on the differences between quarantine and self-isolation, and rules and tips for managing this time. There is also advice on the government web site.
More information
Up-to-date information, including ways to reduce risk to yourself and others, is available from: